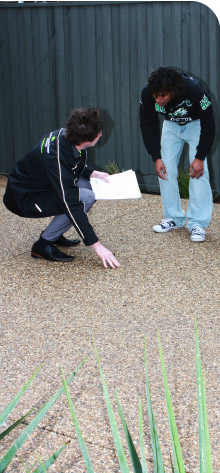 Why should we go with Australian Concrete Driveways?
Peace of mind. ...Read on!
A home is generally the largest investment many of us will make; and a driveway is often the final step in construction. Just as you would choose a Master Builder to complete your home, Australian Concrete Driveways Pty Ltd Master Builder status is your guarantee of quality.
Efficient procedures and professional training are part of Australian Concrete Driveways dedication to providing the best customer service and finished product in our class.
- Australian Concrete Driveways offers multiple choices of standard Archietectural designs or consultation for your own custom design.
- Free Australian Concrete Driveways Fixed Price Quotation within 24 hours.
- Guaranteed "Start date" and "Completion date" upon payment of $250 deposit.
- Each project carries public liability and indemnity insurance to the value of $10,000,000.
- Soon offering E-Crete, an environmentally friendly concrete (coming soon as an option)!
- Proud member of the Master Builders Association.
Testimonial
" Your quote is very impressive! I can not tell you how difficult it has been to get other businesses to even return my calls... I am still waiting on quotes from weeks ago yet you had a detailed quote back to me within hours! Thanks "
Martin Leslie (Pakenham VIC)
What if get a cheaper quote elsewhere?
If you are considering a cheap quote, consider your options very carefully. A cheap driveway can cost you a lot more in the long term.
Please take the time to read "Why should we go with Australian Concrete Driveways?" (above) again.
How do Australian Concrete Driveways ensure quality?
Three critical quality checks take place during construction of your concrete; pre concrete stage, wet concrete stage and cured concrete stage.
All quality checklists are available upon clients request.
Will Australian Concrete Driveways guarantee start and completion dates?
Certainly. Once the client confirms the site clear and ready for the driveways construction a "Start date" and "Completion date" will be booked.
Some clients may need to confirm the site is ready for construction with their new home builder.
A delay to the "Start date" or "Completion date" of the driveway may occur but is not limited to the following reasons; a weather delay or clients failure to make required payments to Australian Concrete Driveways Pty Ltd.
Note: In the event of any affecting weather delay, the client will receive written notification.
Do Australian Concrete Driveways provide paths and extra concrete work?
Yes. Upon a clients request Australian Concrete Driveways Pty Ltd will design and quote any areas on a site.
Clients should be aware that areas with limited access will incur additional costs involved with manual handling and concrete pumping. Sometimes other paving alternatives (other than concrete) are more suitable to these limited access areas.
Can i have my existing driveway resurfaced with new concrete?
Sometimes this is possible however Australian Concrete Driveways Pty Ltd does not provide this service.
What can affect the cost of our job?
There are numerous factors than can affect the price of concrete works, some more so than others.
Factors include, but are not limited to; building site conditions, building site location, total area of concrete paving, type of concrete and finish selected, design of the driveway, slope of the building site, access to paved areas, local council or estate/developer requirements, discounts and upgrades such as concrete sealing, stronger concrete, stronger reinforcement or E-Crete™.
Will the concrete crack?
Cracking in concrete is somewhat controled by "Control Joints". These are more flexible join areas are designed to attract cracking and in turn prevent cracking to the general paved surface.
A good sealant sprayed whilst the concrete is drying will significantly reduce the chance of any cracking.
Due to the nature of concrete as a material and recent drought conditions, standards stipulate tolerances for concrete paving to crack.
These cracks are commonly known as "hairline cracks".
Varying weather conditions (wet & dry) will cause each building site's foundation to react. Those with reactive foundations (Class S, M, H, P or E) should expect hairline cracks in varying weather conditions.
Do not try to repair any damaged or cracked concrete. In the event of cracks greater than 2.5mm wide, the client should contact Australian Concrete Driveways Pty Ltd for review.
Will the concrete fade?
Yes. However sealing of any paved area is highly recommended by Australian Concrete Driveways Pty Ltd to minimise fading, staining and cracking.
How can i best care for my concrete?
What strength of concrete and reinforcement will be used?
Standard specifications of Australian Concrete Driveway paving is; 25Mpa concrete (100mm minimum thickness), SL72 reinforcing slab mesh to all areas with 2 metre 3-L11 to any internal corner(s) to prevent cracking.
Upgraded reinforcement and/or concrete strength should be considered if heavy vehicles utilise concrete area.
How do we orgranise a driveway quote?
Visit our contacts page to telephone us or leave your details for Australian Concrete Driveways to contact you within the next business day! A Free Fixed Price Quotation for your driveway will be issued soon after a site inspection!
Visit the Procedure of Purchase page to view the Four Steps to having a new driveway!
Why is the quote only valid for 45 days?
A Fixed Price Quotation is only valid for 45 days due to the fluctuations in price of our materials. Steel market prices change daily and often significantly so to limit exposure to large price rises Australian Concrete Driveways Pty Ltd limit the quotation only valid for the 45 day period. In the event of construction has not commenced on your driveway within the valid 45 day period, you would be notified and a new Fixed Price Quotation issued.
How can i pay for my driveway?
Other Questions?
Please check our Driveway Maintenance page and if your query is still unanswered please be sure to contact Australian Concrete Driveways by telephone or email!